The Youth Employment Service (YES), has deployed 100,000 young, South African game-changers into the private sector within just four years. With most of these youth coming from disadvantaged backgrounds, they have the chance to not just change the course of their lives, but also that of the country, says YES chief executive officer Ravi Naidoo.
Two in three South African youth are unemployed (15-35) – a statistic that should be keeping all of South Africa, but most especially businesses, awake at night. If ~60% of our youth are unemployed and remain so in years to come, who will drive the country's economic growth in the future?
The YES vision is to transform companies, communities and youth lives by connecting youth to economic opportunities and dignity, together, building a future that works. Over the years, YES has worked to create an ecosystem that brings value to country, company, community, and youth. The fight against youth unemployment in our country is more urgent now than ever.
Over the past four years, over 2,200 corporate partners have signed onto YES, with 1,400 creating more than 100,000 quality work experiences for talented South African youth, equating to R6 billion injected into the economy through youth salaries alone.
What is the true impact of 100,000 YES jobs?
1. The YES salary maintains livelihoods of many homes

YES supports talented individuals from the poorest households, so that more likely than not, our YES Youth have financial responsibilities that extend far beyond their age range. 61% of YES Youth come from grant recipient households and 77% have financial dependents, meaning the single YES salary ripples across families and even communities.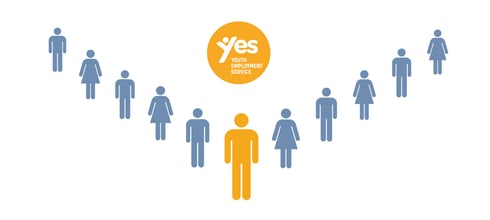 2. Our multiplier effect
We place youth in roles that will upskill them, encourage greater levels of entrepreneurship, and/or forge longstanding quality career-paths.
Our YES flagship programmes such as drones, the Youth Content Collective, coding programmes and more ensure our youth are equipped to thrive in future-facing job sectors. This is called the multiplier effect, where one job can create more jobs.
3. The YES success story: 40% of YES Alumni are currently employed
Our mandate is to not only create employment, but to instil employability in our YES Youth. YES's research, which surveyed 38,000 youth (YES Youth, YES Alumni, and youth who have never participated in a YES programme) found that 40% of YES Alumni are employed (and of this, 59% are permanently employed).
15% of all YES Youth and alumni are engaged in entrepreneurial activity including side hustles, which is double the national average.
What is the true impact of YES for business?
Through YES, over 1,461 B-BBEE level up targets have been met since inception, helping businesses become more competitive, and signalling good corporate citizenship through the programme. The ability to integrate youth job creation with environmental, social, and governance (ESG) strategies helps to increase impact in spaces where it's needed most. Not only does this create broad-based impact in communities, but alliance with ESG goals plays a great role in how businesses stand next to competitors.
For business, YES is a key pipeline through which to select, develop and de-risk undiscovered, standout talent, previously locked out of the economy. More importantly, this talent can help define the trajectory for products and services, helping sell to future markets.
Our star YES Youth
YES Youth across the nation are excelling in the roles and industries they have been placed in.

Lebogang Sennelo
A YES Youth at CapaCiTi, worked as a junior cloud associate and today Lebogang
is a business & integration arch associate at Accenture.

Mawanda Faniso
A YES Youth at YES Drone Academy (Google), worked as technical and operations support and today,
Mawanda is a drone pilot, working for a security company in Mpumalanga.

Chulumanco Lonwabo Nomtyala
A YES Youth at Microsoft, worked as an IT enabler, today, Chulumanco is the owner and designer
of an app called '4IR Apps' that will help people seamlessly apply for housing subsidies.
Thank you to each of our partners for staying the course during turbulent economic times, and for their contributions to this milestone.
YES is grateful to collaborate with a purpose-driven community of partners who not only contribute to this fight but ultimately want to see a better, working and thriving South Africa for tomorrow.
Every new youth work experience created is proof that together, we can rebuild South Africa, but our journey far from over.
YES looks forward to more successful partnerships that will bring sustainable value to the country, economy and the lives of our future leaders and trailblazers.
Join the movement