PUBLICATION: IOL
AUTHOR: Colin Windell
BMW South Africa will undertake an extensive test cycle for hydrogen fuel-cell vehicles next year in collaboration with Anglo American Platinum and Sasol, the latter being the supplier of the green hydrogen and these vehicles will operate locally as part of an international trial of the alternative fuel.
This, and the fact BMW is in the process of gearing up its Plant Rosslyn facility to manufacture the next generation X3 plug-in hybrid forms part of a massive transformation taking place within the company locally and in each BMW operation on a global scale.
The word transformation in the South African context is all too often used in an accusatory manner and very much limited to BEEE scores (or the lack thereof), rather than being seen in a celebratory way – and in the case of BMW South Africa, this is how it should be seen.
As a Group, BMW is changing its entire ethos from the ground up and throughout every single department to direct its efforts to be sustainable, eco-efficient and as much about people as it is about cars and mobility.
Within the South African context, this ranges from re-using test electric vehicle batteries to help keep the lights on at a school in Soshanguve, providing day-care for toddlers at the plant so parents can bring their children to work with them and operating a 'no waste to landfill' philosophy.
"At the BMW Group, we take responsibility for our impacts on the world. Sustainability is not only at the centre of our current global strategy, but something that has long been entrenched in our corporate culture," says Peter van Binsbergen, CEO of BMW South Africa.
"When it comes to decarbonisation, our objectives are among the most ambitious in the car industry. We are committed to the Paris Climate Agreement, which means we are transforming our entire value chain in line to limit global warming to 1.5°C.
"We will halve the C02 emissions per kilometre driven of every car we manufacture by 2030, and by taking responsibility for the emissions produced over the entire life cycle of each vehicle – from the supply chain, through production, to the end-of-use phase – we will achieve a 40% reduction in carbon dioxide emissions in the same time frame."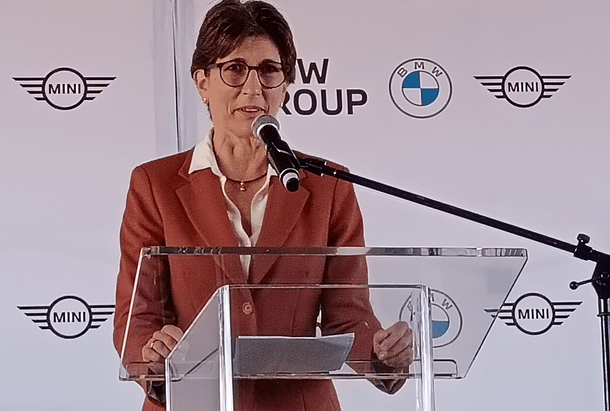 Member of the Board of Management at BMW AG and Labour Relations Director, Ilka Horstmeier says: "At the BMW Group, we are embracing circularity by modifying our design processes, using resources more efficiently and closing material loops.
"We aim to increase the percentage of secondary materials in our vehicles by up to 50%. This will rely on a significant increase in the availability of recycled material, which we plan to facilitate by working closely with our suppliers."
At Plant Rosslyn, the water used to wash vehicles as they come off the line is recycled back through the paint shop and that waste water is then recycled again for irrigation while packing material from suppliers also gets a new life, particularly the polystyrene packaging that is sent to Envirolite in Cape Town for conversion into building bricks.
At the famous round building in Midrand, when the slate roof required replacement the roof tiles were repurposed into the campus gardens as seating, rather than ending up in a landfill.
Plant Rosslyn has about 2,500 employees and provides jobs – through its first and second-tier suppliers – to 14,500 South Africans.
"Our approach to development and learning is holistic starting from the infant stage through our Early Learning Centre which is situated on the premises at Plant Rosslyn. This educational facility caters for employee's children from ages 3 to 6 years old and follows the national education syllabus," says Van Binsebergen.
"For the next step of the journey, we have partnered with schools, the Ntsha Peu Primary School and Lethabong Secondary School situated in Soshanguve, while in 1978, Plant Rosslyn opened its training academy offering a wide range of technical programs.
"Key milestones in our 45-year journey includes the introduction of learnerships in 2000, the introduction of apprenticeships in 2015 and an R733.6-million investment in a new fully-equipped training academy.
"The training academy was accredited in 2021 to offer a robotics qualification and in 2022, it was accredited by the Quality Council for Trades and Occupations as a trade test centre in legacy trades. We continue our journey forward with a new offering in Electric Vehicle Safety tying in with the developments in our Plant."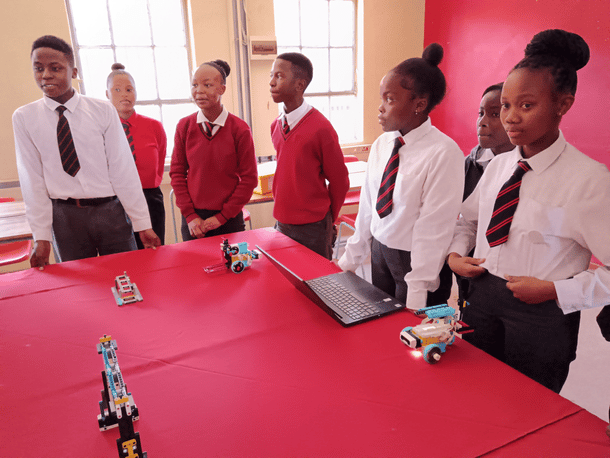 Students at Lethabong show off a robotic project.
Besides the general refurbishment of the buildings at both the schools, the installation of solar panels and the battery backup, both are highly geared towards courses in computer science and robotics. Lethabong will have its entire campus rebuilt and remodelled and it will change from being a general high school to a focused science, mathematics and digital arts.
"For 45 years well-trained and skilled apprentices have gone onto formal employment at BMW Group South Africa, and within the broader industry. Candidates are trained across multiple disciplines and efforts continue within the programme to increase female representation to tackle gender imbalance in the industry," says Van Binsbergen.
"We wholly support South Africa's Broad-based Black Economic Empowerment and currently, we are at level 3, but we are striving to attain level 1 by 2025.
"As part of its transformation strategy and in response to the country's youth unemployment crisis, BMW Group South Africa participates in the Youth Employment Service (YES) programme that encourages corporations to provide short-term employment, of around a year, for young South Africans. The main objective is to provide them with crucial work experience, which can be hard to access in a country with an unemployment level of 34%.
"YES candidates are placed within the broader BMW Group South Africa network. A total of 1 506 jobs across nine provinces were created by BMW Group South Africa as part of the initiative. Of these, 63% are female."
"Currently, the BMW Group uses around 25% recycled steel, up to 20% recycled thermoplastics and up to 50% recycled aluminium for selected components across its portfolio. We aim to increase the percentage of recycled material in our vehicles to up to 50% in the future," adds Horstmeier.
Transformation is something to be celebrated.