Missed our tech webinar? Here are the top takeouts.
The YES bespoke tech solution is a great way to upskill youth for a 4IR future and receive a B-BBEE boost, whether you are in the ICT sector or not. Tech is disrupting ways of working for all industries, and equipping youth with future-fit skills is crucial. Companies like Sage, General Electric, Oracle, Sebata and Verifone are investing in getting South African youth future-ready through YES.
In this tech webinar, YES's Marc Ashton spoke to tech implementation partners (IPs) Bilal Kathrada (IT Varsity) and Fiona Tabraham (CapaCITI), covering how they equip youth with relevant technological skills.
What's in it for my business?
As Bilal Kathrada noted in the webinar, the 2021 top ten in-demand jobs did not exist ten years ago. Even more mind-blowing was his assertion that 50% of today's jobs will not exist in ten years. Finally, there will be more tech innovation in the next decade than there was in the last century.
This means that no matter what industry you're in, it's being disrupted by tech. We need a digitally savvy and nimble workforce to become (and stay) globally competitive.
YES works with IPs to do just that, create a future that not only works but one that innovates. Other benefits include:
Strengthened B-BBEE credentials (your company can gain up to two levels up on the B-BBEE Scorecard)

A more transformed workforce




A workforce equipped with the requisite skills to do the jobs you need




A more competitive company
What's in it for youth?
YES has already created 56,000+ work experiences for youth across industries, which translates to over R3.2 billion into the economy through youth wallets. For digital in particular, Fiona Tabraham said that providing technical skills to digitally marginalised young people resulted in more than 80% of these youth being absorbed into meaningful work experiences. Top performers could gain employment with salaries in excess of R15,000 pm, making a significant economic impact to their lives, and those of their families.
Training youth in digital and tech ensures that they are not left behind as the economy, and the world, progresses into a 4IR future.
The YES IP model, your turnkey solution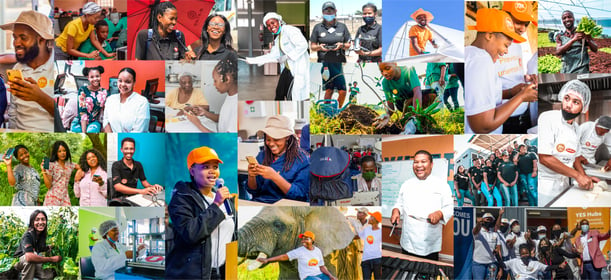 The YES-sponsored host placement model works with 35 YES-vetted IPs across South Africa to place youth. If a corporate cannot place youth in their own organisation, they have the option to place youth with YES IPs.
Some of the YES digital IPs include:
R-Labs:

Grow Leadership Academy teaches young people how to build and run a business
IT Varsity: An accredited online learning institute preparing youth for careers in app development
Zaio: Creates customised learning journeys for companies, then simulates a work environment for youth (app and coding skills)


CapaCiTi: Provides training and experiential learning programmes focused on both technical and professional development, ensuring a digital talent pipeline.


Edunova: Focuses on the effective use of Information and Communication Technologies (ICTs) in schools, primarily working with schools situated in the disadvantaged communities of South Africa.
YES Hubs
A range of activities takes place at a YES Hub, enabling innovation and a cross-pollination of ideas, seeding points for new business. YES Hubs offer training in cutting edge, cross-sectional digital and technological skills such as hydroponics, 3D printing, coding, drones and much more. Find out more about our Hubs.
Want to become part of the movement innovating youth jobs for a future that works? Calculate your youth target here.
Want to know more about YES? Click here.